This week the associate books editor at Huffington Post wrote
a piece taking publishers to task for the horrible covers they've given to feminist classics aimed at teen girls
. You may be wondering, as I was, just how much does the associate books editor at Huffington Post make. I have no idea, but it really looks like an easy job.
I should not have been surprised to find that Huffington Post did not come up with the article's topic; they took it from the website
Jezebel
who took it from The Gaurdian. While Huffington Post puts out very little original thought, once they publish something, it can really take off. The controversy over the main book cover in question is now all over the web. At Ready When You Are, C.B. I publish three times a week during a good week but well over 50% of the ideas used are my own. So far none of them have gone viral, but someday....
The topic of bad book covers comes up because Sylvia Plath's novel,
The Bell Jar
has been reissued by Faber in a special 50th anniversary edition with a cover some people do not like very much. (Scroll down to see both the old and the new covers.) I'm not crazy about the new cover, but the old one was nothing to brag about either.
The Bell Jar
is about a young woman working at a high-powered women's magazine in the 1950's. The images of make-up, mirrors, even the image's central focus on beauty products, all strike me as appropriate. I also think it's a cover that will sell more books than the old one would have; at the end of the day the purpose of a cover is to sell the book.
If you haven't read
The Bell Jar
, by the way, you really should. It's wonderful. Think
The Catcher in the Rye
but 37% better.
The associate books editor at Huffington Post goes on to argue that too many books aimed at young women have terrible covers which are disrespectful to the importance of the original material. I agree that
Twilight
inspired images of broken roses and various kinds of romantically lit fruit have become tiresome, but I bet these pictures do sell the books. Several non-Twilight inspired examples are featured in the Huffington Post article including the covers for
Herland
by Charlotte Perkins Gilman and
Night and Day
by Virginia Woolf pictured here.
I took a look at these two covers and smelled a rat. These just don't look real to me at all. Were they both fakes? I took a quick trip over to
Library Thing
where I found that both covers do, in fact, exist. But just who would publish books with covers as terrible and inappropriate as these? Another quick trip over to Amazon.com and I found that both editions have the same publisher---Create Space Independent Publishing.
Never heard of them. Neither had I.
Create Space Independant Publishing
appears to be Amazon.com'a self-publishing arm, what used to be called a vanity press. There you can upload your work, design a cover, and produce books which you can then sell on Amazon.com. I imagine
Herland
and
Night and Day
have fallen into public domain and that some enterprising person out there has decided to go into business selling them. This is a model that works quite well for Dover Books which features much more respectable covers.
So both covers do exist. However, I don't think it's fair for the associate books editor at Huffington Post to complain about the cover images on "self-published" books and on book published by actual publishing houses like Faber in the same article. The two really are not the same thing.
I found all this out in roughly eight minutes of web surfing. I don't mean to suggest that the associate books editor at Huffington Post should have done more leg-work (finger-work?) before publishing her article. I imagine the associate books editor at Huffington Post has more important things to do with her time than web-based research. Google can sometimes be very slow.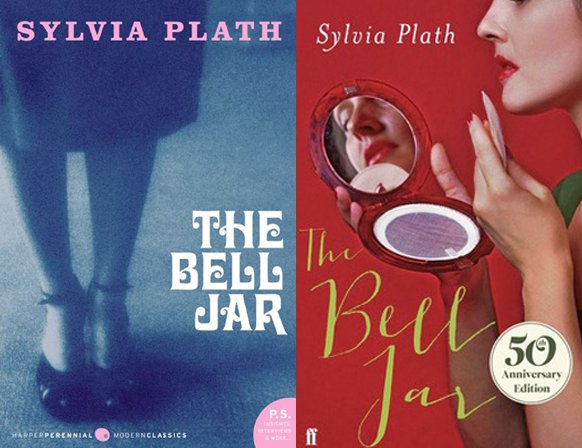 If you've never read Charlotte Perkins Gilman's novel
Herland
you should consider it. It's not great like
The Bell Jar
is great, but I thought it was lots of fun. And if you happen to have a copy with the groovy green dancers on the cover, please send me a photograph of it. I'd like to know that such wonderfully tacky things exist in the real world. When I checked Amazon.com this morning, I could no longer find an edition with the groovy green cover listed. I wonder what it would fetch on eBay.
I can't speak for Virginia Woolf's
Night and Day
as I've never read it and I don't really like Virginia Woolf. C.J., who loves Virginia Woolf, has never read it either. Her other books are very good, though they do tend to have rather dull covers.