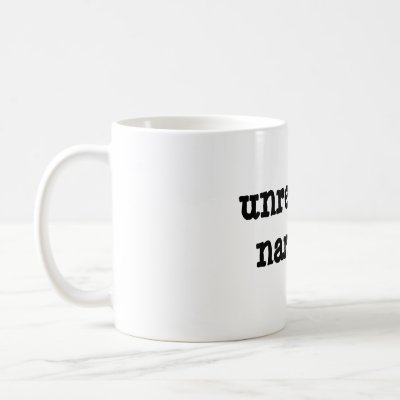 To purchase your own "Unreliable
Narrator mug, click the above image
Earlier this week after I heard a review on NPR that mention young adult narrators in adult literature, I thought that would make a fun topic for a Sunday Salon trivia contest. The NPR article mentioned the first three on the list below. I got the first two right away but had to think a bit to come up with the third. See how well you can do.
Here's the list....have fun....
Holden Caufield
Scout Finch
Frankie Adams
Esther Greenwood
Ponyboy Curtis
Piscine Molitor Patel
Stephen Dedalus
Christopher John Francis Boone
Oskar Matzerath
Sybylla Melvyn
Each narrator listed above comes from a book that could be labelled 'literature.' Only one is clearly from a piece of young adult literature although two come from books sometimes marketed as young adult. All but one come from a book written in English. You could argue that one is really an adult, but I think she's such a close cousin of Holden Caufield's that I put her on my list anyway.
If you think you know the books these characters narrated, list one in the comments section. Please just list one so that others can play, too. If you have some more that you'd like to add, please do so in your comment--just list the narrator so we can all have a guess at the book's title. I'd like to limit the narrators to just those who narrate books marketed towards adults in at least one edition.
With the one exception, of course.
To make things more interesting, I'm giving away $1,000 dollars to one lucky commenter.*
I'll publish a complete list of correct answers next week.
*Not really. There's no prize. This is just for fun.